Dancing Unit (Montessori Inspired!)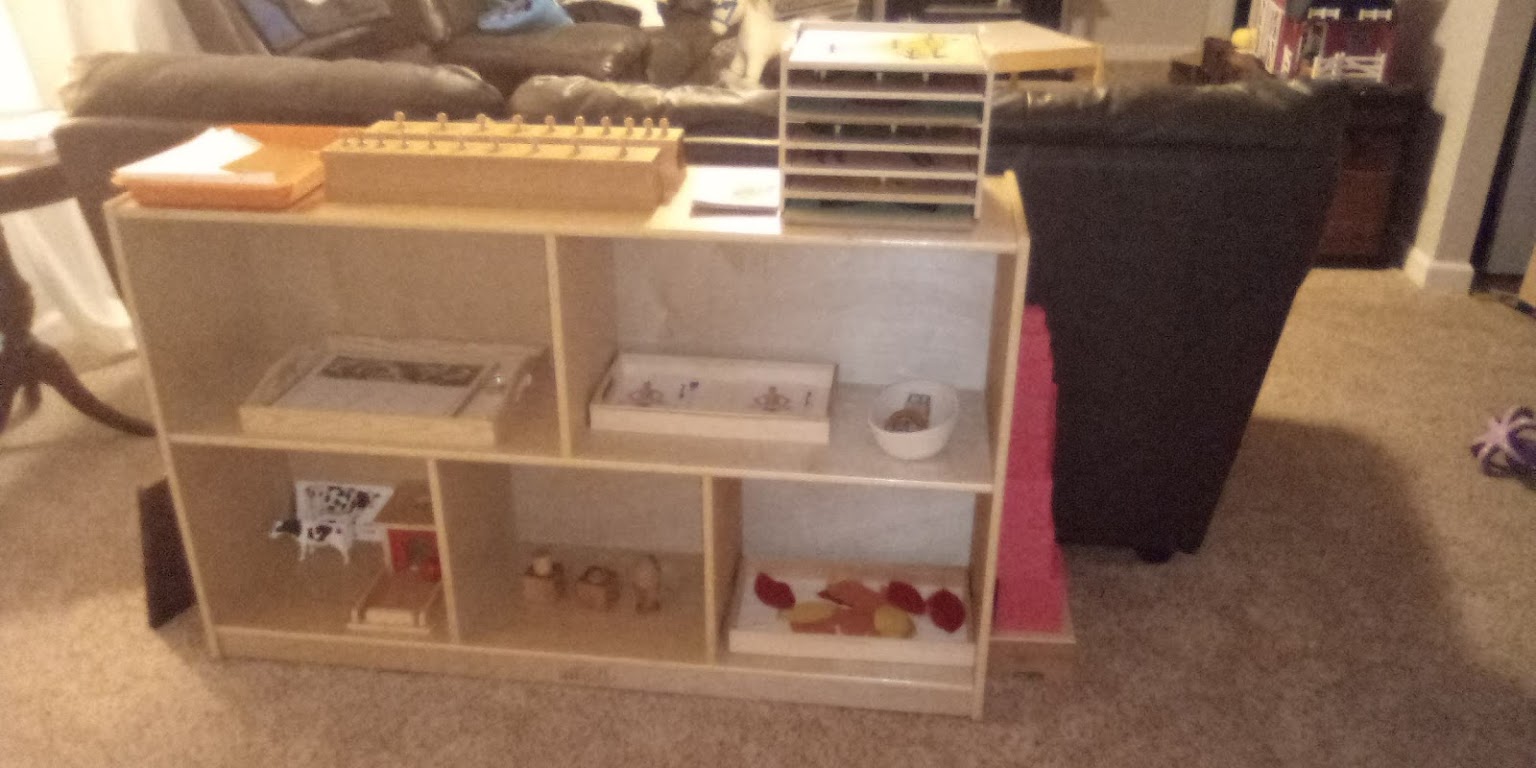 In Montessori we follow the interests of the child. This means allowing the child to dive deeper into their interests. We pull their interests into as many works as we can and fill our shelves, walls, bookshelves, and adventures exploring their fascination. A common misconception is that the child only learns what the child wants to learn or that it is complete freedom (some might assume anarchy). On the contrary, following the child is merely freedom with limits. It's an intentionally cultivated environment that facilitates hands on learning. It is movement friendly, child centric, developmentally appropriate and the consequence is organic, joyful learning. I go into more detail on this concept here.
All this to say… we have a tiny dancer on our hands. Over the summer we enrolled our three year old (who was showing interest in dance) into a week long dance camp. She did great so we enrolled her in weekly classes. She has settled in nicely and loves dancing. To further explore this interest, I put together a mini dance unit!
Three Part Cards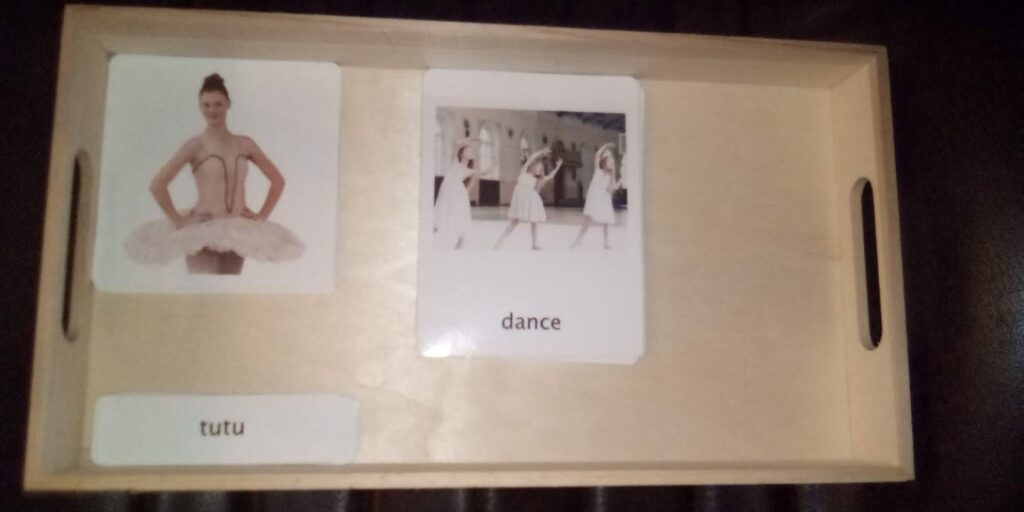 I found this adorable ballerina bundle from Green Urban Creative. I WISH this dance theme included tap but I had to make those on my own. We use the three part cards for matching games, language games, sound games, and memory games. It is important to note that three part cards are not the first introduction to a concept or object (if you can help it!) Instead, we first introduce in real life. Facilitate an experience, explore out in the wild (or at least your own backyard!), attend an art exhibit, museum, or zoo. These are just examples but you get the gist!
Counting Work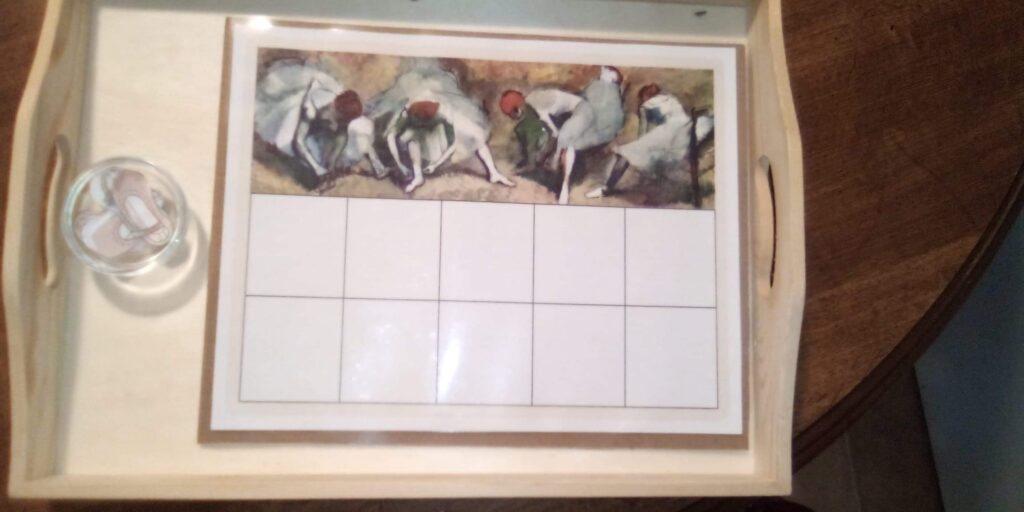 Next on the shelf, I LOVE this tens board + ballet slipper counters from Green Urban's Ballerina Bundle. Little Miss has shown more interest in numbers lately so we have been doing a lot of counting naturally in the environment and reaching for our Montessori Math Works board book frequently. We only use this when she grabs it and wants to count. I love the visual of the ten together.
I also printed off enough ballet slipper counters to emphasize the number unit itself for 1-10 (like Montessori cards and counters). This facilitates a true understanding of what a number actually is setting up for future math work. I paired them with cards of the numbers. We mostly used them in our "Bring me" game (Example: bring me five ballet slippers).
I honestly don't expect to use these works much as the sensitive period for numbers is normally between 4/4.5 but since there has been an interest in numbers lately, we will have them ready just in case.
Color Work + Foreign Language Work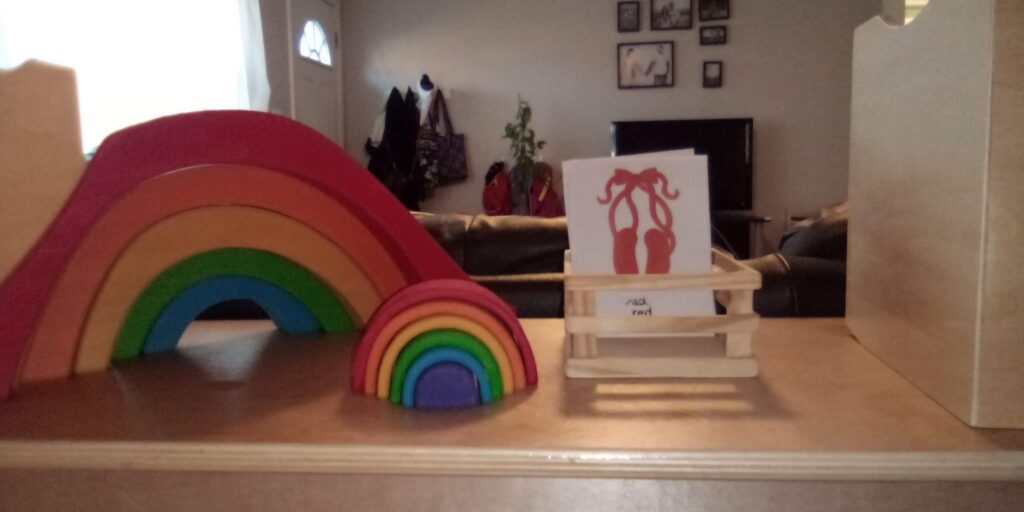 This is a spin off of the work in the bundle. In Green Urban Creative's bundle they include French and English but we have selected Spanish at this time. Little Miss mastered the color tablet boxes 1 & 2 in the spring so we are using this as a little review and then building on that knowledge with the Spanish works for these colors. We've done a little work with vegetables and Spanish with this board book this fall. For this display I brought out our Grimm's Large Rainbow Stacker and the Grimm's Small Rainbow Blocks. We use these for color order, additional practice with the names of the colors (especially Spanish at this point!) and for open ended play.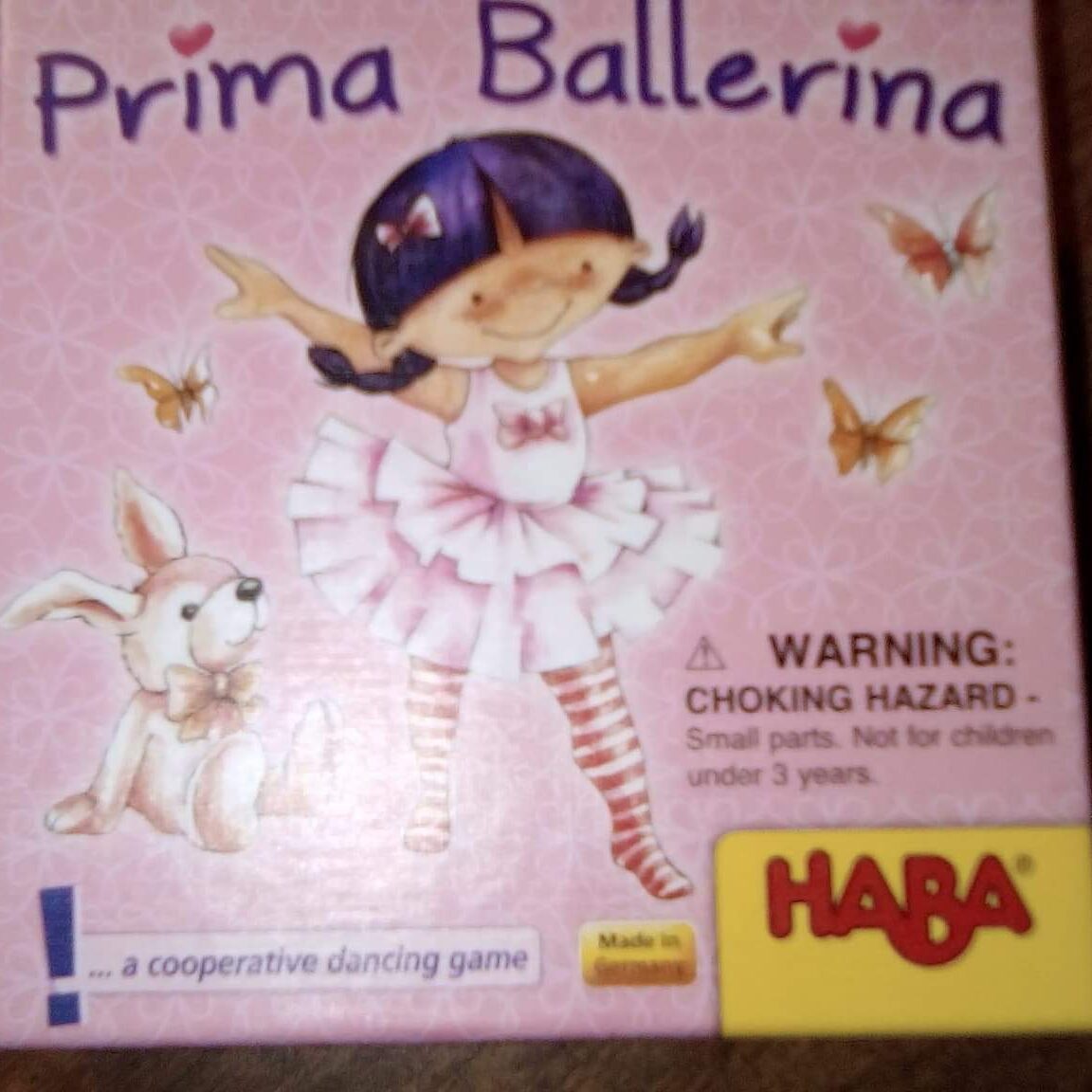 I purchased this adorable ballerina game from HABA. This reinforces some common dance poses and encourages movement. We have not gotten into the memory work yet with it but plan to do the full game soon! Some days she will do this over and over. It has been a HUGE hit. This is fun puzzle work, collaborative play, great for movement, matching work, and memory work.
Language Objects Basket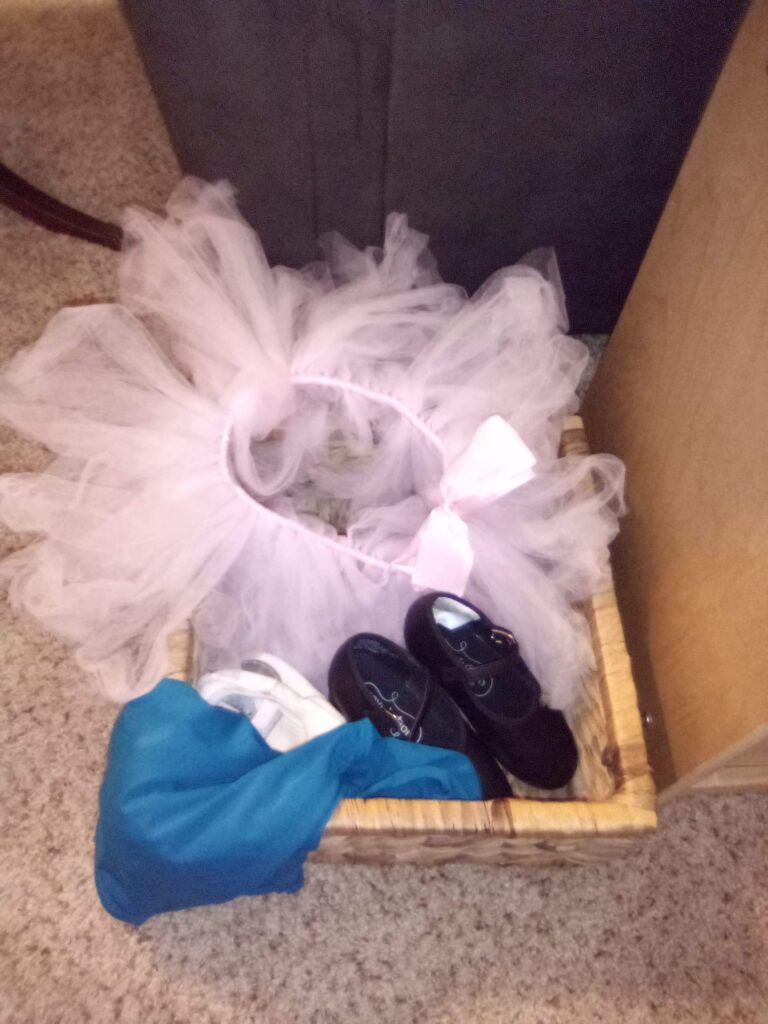 Initially I wanted everything to be tiny for this so that it would fit neatly on the shelf BUT I ended up going with what we have and building on it because I really wasn't finding what I was looking for outside of collectable items or handmade items. Both were way more of an investment than I would ever make into a single language object. Sometimes we try to make everything so perfect yet what makes the most sense and ironically also more cost effective is using what we already have. That said, we've used this language object basket for sound games, and reinforce vocabulary.
Exploring Bible Verses on Dancing
I used this resource as a spring board for my own exploration and study then decided to bring in a few verses into the environment. I printed off the above picture from the linked resource, then hand wrote a couple onto small posters. I chose Psalm 49:3 and 2 Samuel 6:14a. I story tolled the full story of chapter 6 before introducing the last verse.
Dance Art in our Space
Montessori encourages the use of beautiful art used throughout your space so we bring it in and rotate it seasonally and then with our themes. Here is what our set up looks like.
Dancing in the House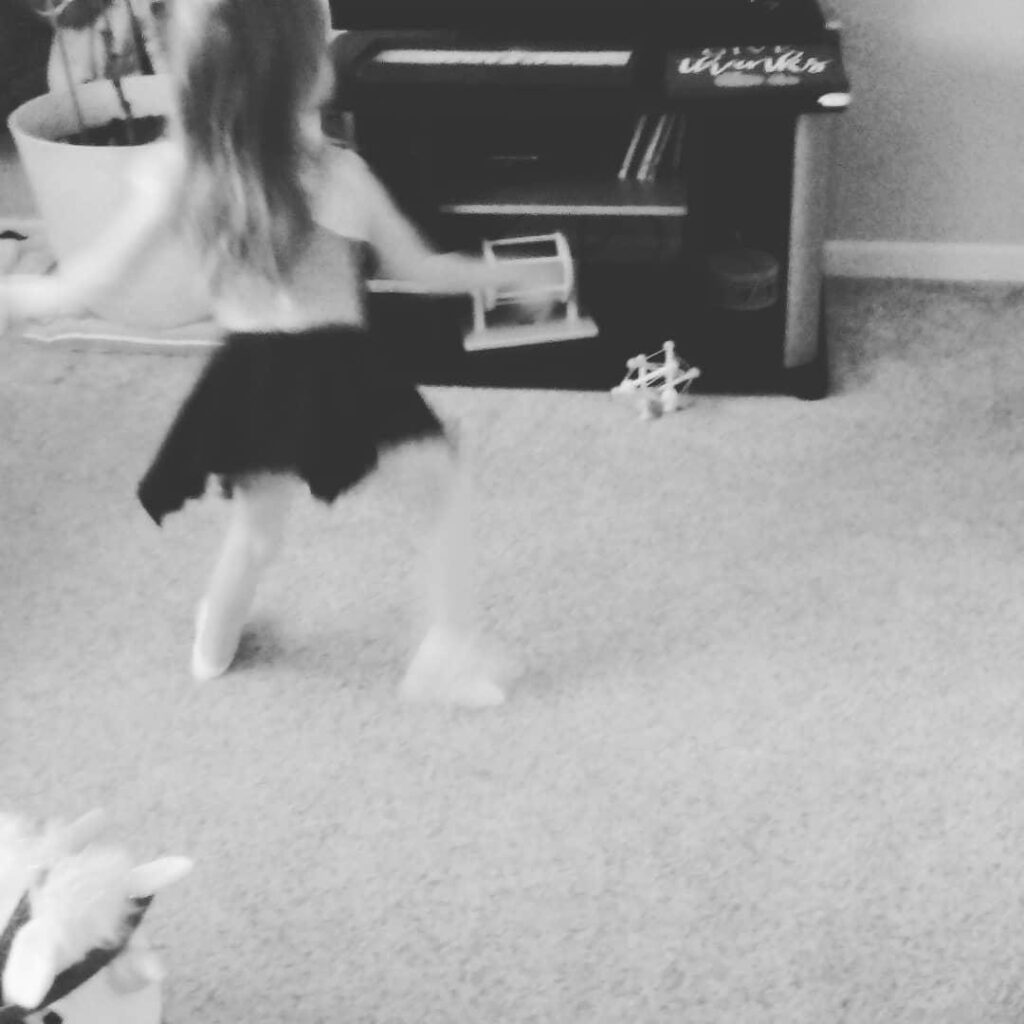 More than anything else our little dancer LOVES dancing. She wants to dance her little heart out. Here's some music we've been dancing to:
Ballet
Classical ballet music (There's a great list on Amazon Music we listen to frequently!)
In Christ Alone – Paradosi Ballet Company (ANY of the songs with this dance company… she calls it her dance company lol!)
Tap
Counting Stars by One Republic
Note: Although we have watched these, we don't always watch these while we are dancing. We mostly listen and dance. I want to encourage her creative expression at home and just let her have fun and be little.
Order of Lessons
Quick note on the order of lessons. Because this is presented in the home environment and I have two littles at home that I don't want to overstimulate, we added one new work to the shelf each day. This is the order I went in:
Day 1: Language Objects Basket (Two lessons: first introduce items then play sound games; I did one during morning circle time and one to start off our afternoon work cycle.
Day 2: 3 Part Cards – I introduced three 3 Part Cards the first day and added it to it as we covered something new.
Day 3: Counting Work – We counted the ballet slippers we found in the tray with and without tens board.
Day 4: HABA Prima Ballerina Tray Added to Shelf & Dancing in the Scriptures Exploration + Story Telling
Day 5: Exploring Dance in the Bible
Day 6: Color Review
Day 7: Spanish Colors
If you use any of these ideas in your home, I hope that you enjoy them as much as we have! If you are wanting to explore creative expression in worship from a Biblical context, here is a great read from Desiring God.
Update: This has been such a popular interest that it is STILL on our shelves four months later! Some are rotated out and brought back because of interest but the 3 part cards especially have been a constant. And of course, there's been lots of dancing in our house!
---