Dental Unit
This is a part of our My Body Unit series that we are doing throughout the rest of this year and maybe into next year. I am going to sprinkle it in and just follow the child. Since this month is National Children's Dental Health Month, I decided it was the perfect time to sprinkle this one in. This is about a week long unit that can remain on the shelves longer if there interest. I am planning for both Montessori "tot school" and preschool and have loved the resources I've found from both Momtessori and Every Star is Different for our My Body Unit. I also found Pinay Homeschooler's Dental Unit and Living Montessori Now's Resource Round Up on Dental Health helpful in preparing for this unit. I love to see how other people present materials on the shelf and to their child. Everything I referenced for inspiration, planning, and resources are linked at the bottom of the post for easy reference in case you are ready to bring this into your own homeschool or home!
Why We Brush (Book) + How to Brush (Demonstration)
We started the week with a Usborne book called, "Why we brush". Then I demonstrated how to brush properly and we all brushed our teeth. The tot is still brushing way to hard but we will get there! My four year old really improved with her brushing this go around.
How to Floss (Demonstration)
On day 2 of this unit, I demonstrated the right way to floss and then we all tried to floss our own teeth. This has been a fun activity for my tot and my preschooler has almost gotten the hang of her front teeth. Mommy still flosses for them at night though 😉
3 Part Cards Types of Teeth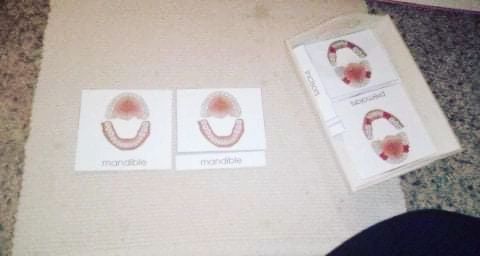 When I first introduced these cards, we matched them up like a traditional three part card presentation. BUT they were a HUGE hit as a memory matching game. We initially played with just this set. After we did the part of the tooth (below) and she did the memory game with that set by itself, we mixed and matched the two sets to make it harder. Again, huge hit with the preschooler. This printable is from Montessori Print Shop.
3 Part Cards Parts of the Tooth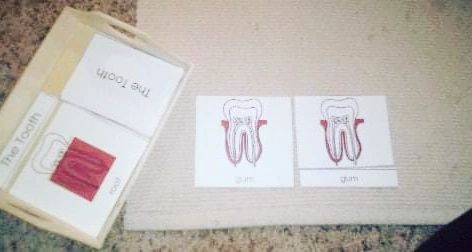 See above for presentation and interest. 🙂 These are from Montessori Print Shop.
Animal Teeth Cards
This was SO fun for both my girls (preschool and tot). We didn't display this on the shelf the same way but I didn't grab a picture of this activity. We explored what each animal's teeth looked like and just had fun. This printable was free from Every Star is Different – Dental Pack Printable 1 in their subscriber freebies (link below).
Teeth Charts (Permanent and Baby Teeth)
I don't have a picture of this but I found pictures of both of these and just printed them out on laminated paper. We used this alongside our models that we borrowed for the week from my Sister and BIL (who are dentists!).
Tooth Anatomy Poster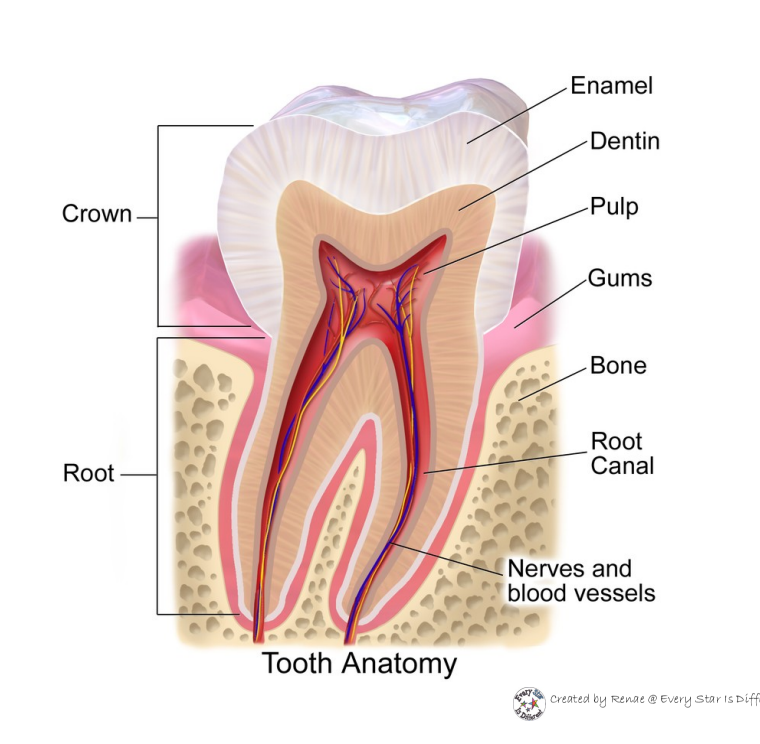 Before we did the three part cards of the parts of the tooth, we read through the poster together. My tot frequently came back to it to point at a different part and say, "What's that?". She's in a huge language leap and this is her favorite question right now and I LOVE it! I can't remember if we read through this the same day we did the three part cards or not… it was child led as they noticed it so it could have been on the first day. This printable was free from Every Star is Different – Dental Pack Printable 1 in their subscriber freebies (link below).
Books
For this unit we added four books to our shelves:
"Going to the Dentist" (Usborne First Experiences)
"Why Should I Brush My Teeth" (Usborne)
Resources:
---