Double the On Guard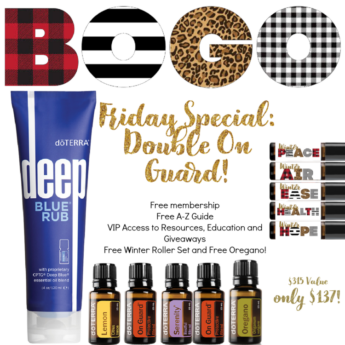 $137 $315
Available Friday November 20th ONLY!
Grab DOUBLE the On Guard today only here.
Aren't in our exclusive Essentially Holistic Member group yet? TODAY is the day! Check out this special. You get double the On Guard (trust me, you'll NEED this! Especially during times like this…), Lemon (purify all the things!), Deep Blue Rub (MOST used for a reason!), Serenity (all the calming and restfulness please!), plus Oregano (BEAST oil!) for free. This will get you ready to tackle ALMOST anything. Need to hear more? I am going live in my specials group. Join here (anyone with an existing/active customer account AND of course everyone in our exclusive member group are welcome!)
Want just oil? Grab On Guard here at wholesale price and get Oregano for free! Want retail price? Here's that link.
How does wholesale work? It's 25% off of retail and it's basically like a Sam's Club or Cosco account. Shop whenever you want for a year and get wholesale prices. No required purchases or anything like that. You can even earn extra product if you are a frequent oiler. Don't worry. We'll show you how!
Can you get this deal IF you are already a member! Yes! Just click on the link and sign in.
Are you as excited about this deal as I am? Grabbing more than one over here. Happy Oiling!
XOXO,
Amanda
---