Spring Recap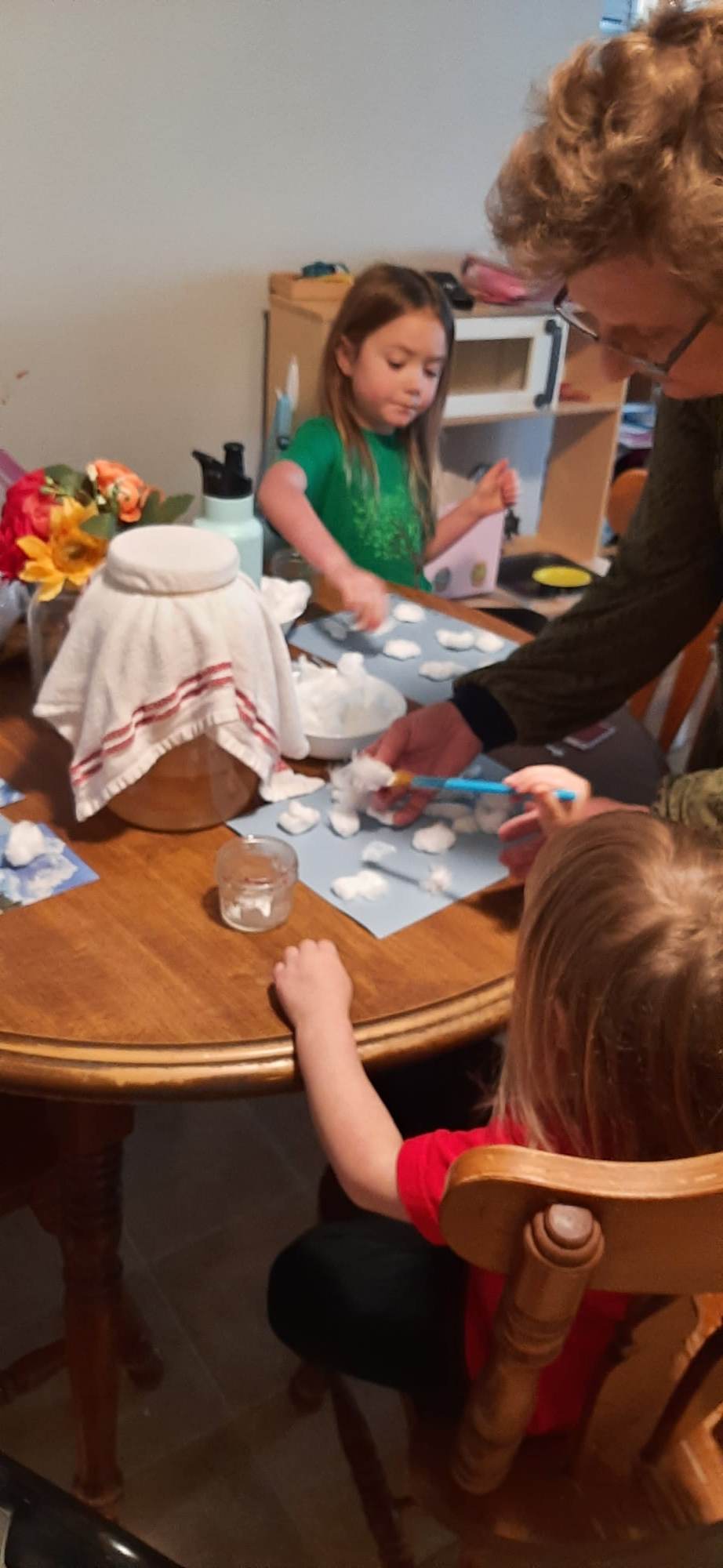 It's still spring but we are officially wrapping up our school year. I am not 100% sure when we will begin our Summer I term BUT I am VERY excited. I think we will take 2-3 weeks and then maybe start back the first or second week of June. We LOVE year round schooling over here. We spend a TON of time outside, explore with our friends, and study seasonally inspired topics frequently in our home. Especially in the summer! We never stop learning and it is actually hard to pause moving through the sequence sometimes but we need to take space during this busy season in our life to just be some. Also, I need space to prep for the next school year. I would like to get ahead a bit on the bead materials and prep for a month or two.
PRACTICAL LIFE
Practical life is a large part of the 3-6 homeschool. This past spring semester, I had two officially in our 3-6 homeschool. My three year old spent a lot of time washing dishes or babies, sweeping, mopping, vacuuming, and was still very into liquid transfer work. She also has begun taking responsibility for her own laundry (right now she helps sort, turn the right way, carry the laundry basket to the washer, put in the washer, and put clothes in the dryer). She regularly chooses to work with scissors or the hole puncher on the shelf. Both girls are into drawing and painting and will often choose this in their work cycle. My oldest has begun to work on her sewing sequence again at the close of the year and has mastered the knot. Lacing small beads has become of interest. She has also finished prepping for finger knitting. This will be where we start and will be available in between now and the first summer term as well.
SENSORIAL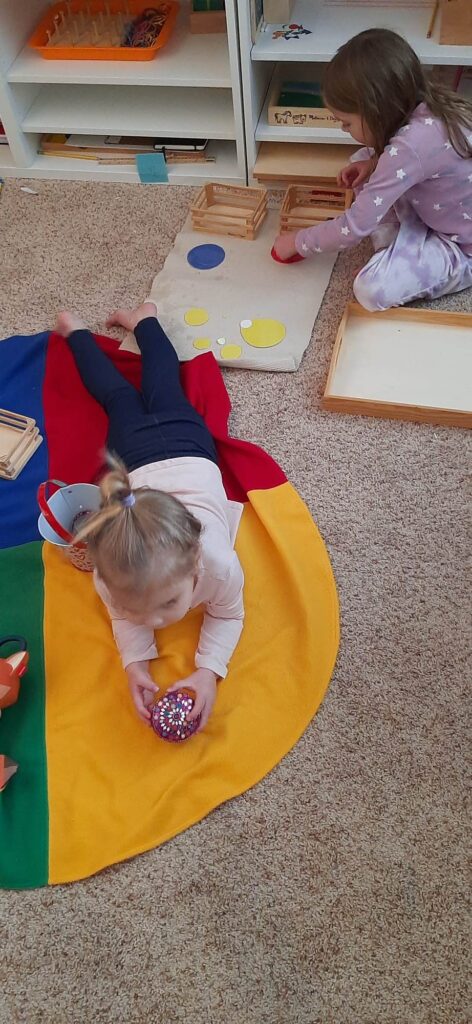 The sensorial materials were introduced at the end of the winter for the Littlest Miss. Since then she has worked with all 4 knobbed cylinders, circles, the color tablets (boxes 1-3, although she did not choose to work with the 3rd box). She has also worked with the concept of hot and cold, and tasting different textures/flavors (although we were not as intentional as the traditional tasting jars). This spring semester was only 8 weeks for us so we didn't add as much as I thought we might in this category.
LANGUAGE
Language and culture overlap SO much. It can be hard to separate these into two different categories at times. For simplicity, I am going to focus on sound games, reading, spelling, writing, penmanship, and grammar in this area. We also do lots of read-a-loud with a book rotation (sometimes on theme of study and sometimes seasonal), novels, and poetry.
Sound Games
We continued sound games with our 3 year old although they were not as of interest for her as they have been. She is still playing beginning sound games. My oldest is still playing with phonemic awareness and growing in her mastery of this. The skill she needed to focus on this spring was listening to a word, isolating the sounds, and spelling the word. This is something she's been doing for a while but took a bit of a break from. What a great reminder that you can get a little rusty even when you've mastered a skill and that regular practice is a good habit!
Reading
My oldest enjoyed working through the first set of puzzle words and learning additional spelling rules. She also began reading little books this semester. (Check out the Montessori reading sequence here). We will continue practicing reading between now and the start of the summer semester.
Penmanship
This is something that was not chosen as regularly as it was the rest of the school year. It was something that she would select on her own 2-3 times a week outside of creative writing (which she did a lot of!) She also did some copy work this spring.
Writing
Creating with words – some of what I would put into this category is composition, some is creative writing, and some is journaling. She very much enjoys creating with words and often pairs it with drawing or painting. She even creates her own comic strips to tell stories.
Primary Grammar aka the Function of Words
This starts with the Montessori Grammar farm. We are still using this material and have gone through the article, adjective, and noun families (which is a review of both). We will start this the first summer term with a brief review and then dive into the Logical Adjective Game.
MATH
Montessori math is very organic before 4/4.5. This can vary by child but this progression never starts until the child has both received the red rods lesson and mastered them in the sensorial sequence. My 3 year old has a few materials in this sequence before she would be ready for it.
This spring my six year old dove into multiplication with the golden beads, multiplication with objects, and early division. She also circled back to adding fractions with like denominators. We did a review of the clock (hour and minute hands) as well. I had hoped to have time to review coins but we will review it this summer.
CULTURAL
We LOVE our cultural studies. This category (which technically falls under the language category in primary) includes: art, dance, music, geography, history, science, peace, Bible and Spanish. We are big on units in our home and often try to tie in all areas of learning when we can. This spring we studied weather for a little over a month. Each week we focused on a different area and covered: wind, measuring weather, basic weather, sever weather, color theory, and rainbows. It was also time for our oldest's Walk Around the Sun. This time we did one picture from each year and shared something that we love and admire about her. This is such a sweet tradition that we have added to our home birthday celebrations.
In addition to this we did a Holy Week focus in our home, a study on Deborah plus a presentation, and slowed down to observe the signs of early spring + spring nature learning. Little Miss also began charting and observing the coming of butterflies for this season as a part of her year-long Monarch project. This project will not wrap up for a couple of weeks as she works on the butterfly garden and tracks the Monarchs. This project has been so fun and she has done so much for it already!
My goodness. We packed quite a bit into the 8 weeks of our spring semester in 2023. I am always surprised at all we accomplish when the end of the year comes around. Here's to another school year in the books! Happy Spring!
If you liked this post, you'll love these:
---