3-6 Materials For Year One In the Montessori Preschool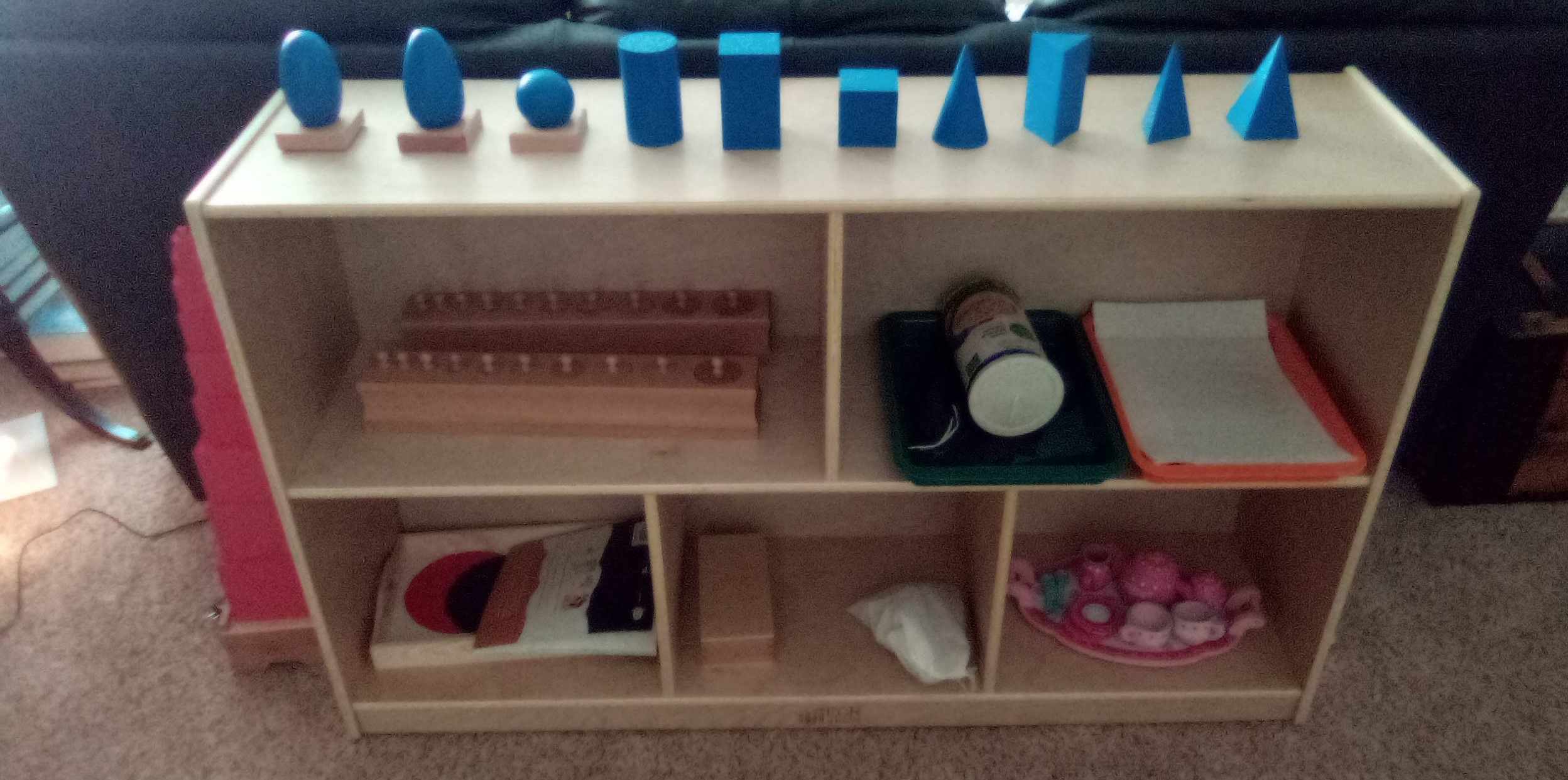 We just wrapped up our first year of the 3-6 Montessori Materials in our home. I am getting organized with our materials and planning for what's to come in the next 6-12 months in our homeschool preschool. In our home, we need to spread out our purchases in order to fit everything in the budget. The materials need to work for more than one child as well and have some resale value. We set a budget of about $100 a month and saved or purchased a little here or there. We've bought most of our items from Kid Advance (I am not an affiliate with them) but we bought a few things from other stores. I'll list them with each item. Here's a look at the materials we've used in our home year to date. Keep in mind that every child is different. We want to be preparing for the future while still following the child. A few items listed below were ones I had bought but we have not used yet in our home. For a look at the curriculum we follow in our Montessori Homeschool, check out this post.
Practical Life
Quick note on practical life. You want to make the environment as accessible as possible for your children. You want them to be able to do it themselves if they choose. Everything from dressing to preparing a snack. These items I've listed below are great for that in our home. You will need to see what your child needs. This is definitely not a comprehensive list.
Dressing Frames (& Stand) Similar Here- Kid Advance – I had planned to DIY this material but when I calculated the cost (not to mention the time!) it was actually rather close so I decided to grab them instead of buying. We went with 6 instead of all 12. We have the: large button, small button, snap closure, buckles, lacing, and bow dressing frames.
Melissa and Doug Real Cleaning Set
Ikea Children's Table and Chairs (child size seating option)
Sensorial
Pink Tower (& Stand) – Kid Advance
Knobbed Cylinders (Cylinder Blocks) – Kid Advance
Geometric Solids – Kid Advance
Brown Stairs – Kid Advance
Red Rods – We grabbed these from Kid Advance. I don't have the stand yet, but plan to grab it in the future. Right now ours is actually displayed on the floor. We need more shelves!
Color Tablets (Box 1 & 2) – Instead of Grabbing Two Separate Boxes, we grabbed color tablets box 2 and used them for both. I presented box 1 in a basket. I got the Color Tablets Box 2 from Nafee's Creations. They no longer have it listed, but they carry quite a few Montessori Items and may eventually add it back. IFIT Montessori carries all three color tablet boxes and they are currently on sale!
Color Tablets Box 3 – IFIT Montessori – great price and I am VERY happy with the quality. I did have to glue one wooden piece back on when it arrived but I got a great deal and the rest have held up.
Geometric Cabinet – Kid Advance – We already have this piece. I plan to present it over the summer (we are embracing year round homeschooling over here!)
Sandpaper Globe – DIY – When I went to purchase this item, it was sold out EVERYWHERE. Thanks pandemic 2020…. But this is honestly an easy DIY and I am thankful I ended up doing both this and the Continent Globe myself.
Continent Globe – DIY
Language
Language Objects – We've used our Schleich animals, items from this summer loose parts, and this set from Montessori by Mom (They are currently on sale!). I am looking at grabbing these on Etsy from Montessori Methods. I am also looking at this collection. Really everything from that shop!
Phonemic Awareness Cards – Montessori Methods (Playful Path to Reading)
Lower Case Cursive Sandpaper Letters (& Box) – Kid Advance (Not Yet Introduced/May or June?)
Lowercase Double Sandpaper Letters (& Box) – Kid Advance
Moveable Alphabet (+ Extra Case for Language Object Box) *Not yet introduced; Summer 2021*
Cultural
Science
Animal puzzles – Almost all are from Pink Montessori
Fish Puzzle (Similar and here)
Turtle Puzzle (Similar and here)
Frog Puzzle (Similar and here)
Insect puzzles – Pink Montessori
Plant Puzzles – Pink Montessori
Parts of a Tree Puzzle (Similar Here)
Parts of the Leaf Puzzle (Similar here on Amazon)
Parts of the Flower Puzzle (Similar here and here)
Geography
Cosmic Nesting Boxes – DIY. I am spray painted these wooden Melissa & Doug boxes black (I grabbed them off of Amazon for $10!) and am put white vinyl cut outs on them.
Land Forms – DIY
Mathematics
Number Rods – Kid Advance *Have not presented yet. Still working with red rods. Summer 2021* This could be a year two item depending on the child.
That just about sums up our list for Montessori Materials for year one of 3-6 in our homeschool preschool! Hope you find this helpful in planning and preparing to teach Montessori at home.
Other resources for Planning & Prepping:
---