Pumpkin Fun + Phonological Awareness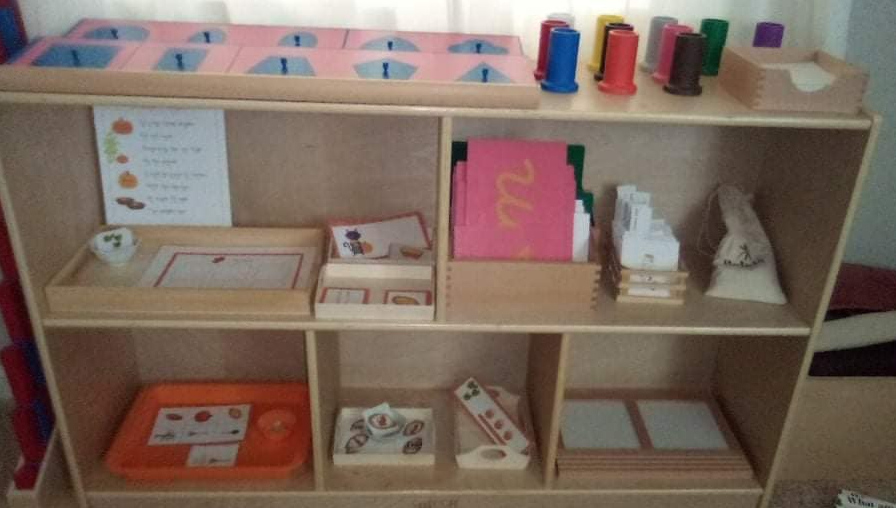 We have had such a fun fall season. The month of October we did quite a bit with our pumpkin theme. We actually started it the same day we did pumpkins at Forest School so that was a fun coincidence. At home we did a pumpkin poem which comes with a booklet to use with it. We used the booklet a couple years ago (on my oldest daughter's tot shelves) for sequencing but we didn't get to it this time. The poem is a fun addition to morning circle time. We went through the life cycle of a pumpkin from seed to pumpkin and discussed our failed garden. The deer ate EVERYTHING this year – including our pumpkin patch! We did get to plant the seeds, dress up with compost, weed and love on our patch and then watch it flower and grow baby pumpkins before the deer took them out. We learned from the fail as well. There is nothing like hands on, real life experiences.
At Forest School, we explored the height, weight, and circumference of a pumpkin or gourd. Then we drew ours and recorded our findings. My daughter is pre-reading and pre-writing so I recorded hers for her alongside her drawing.
We did the parts of the pumpkin and The Pumpkin Gospel story as we carved the pumpkins we had for Halloween. This has become such a fun tradition in our home.
This year Little Miss was very into her Pumpkin Patch Phonological Awareness Pack activities and they were perfect timing for leaning in and really mastering the beginning and ending sounds. It also gave some fun practice with middle sounds as well which were newer for Little Miss going into this unit. We decided to wait until after she had mastered sound games (almost in their entirety) before introducing sandpaper letters. For more about why our family chose to wait, check out this article.
Here are the activities we had on the shelf from the pack:
Syllable Sorting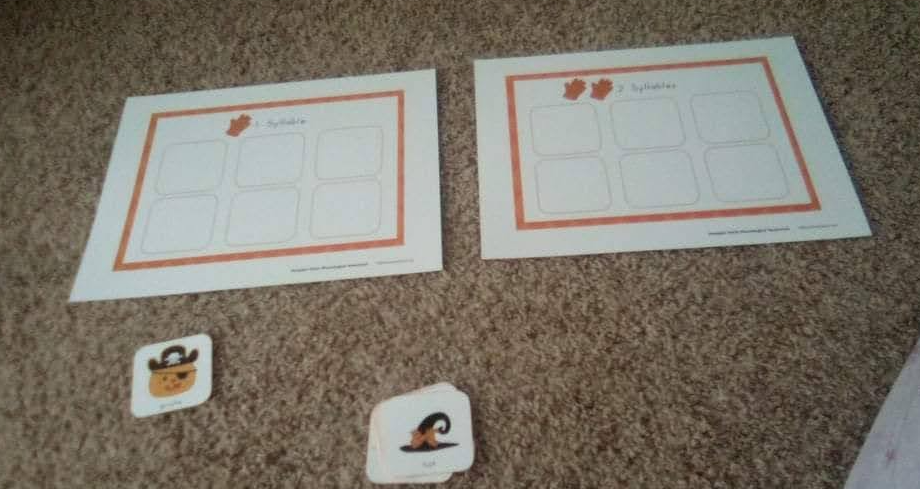 This came with cards that were either 1 syllable or 2 syllables. We have done a little syllable work in the summer so Little Miss picked up on this quickly. We played this a few times before she seemed ready for the next activity.
Initial Sound Matching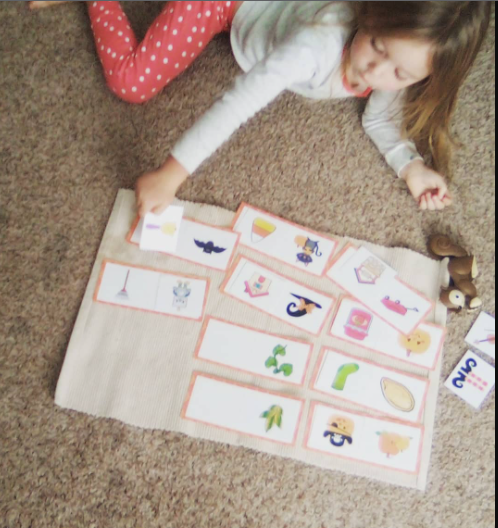 This really takes beginning sounds to a new level vs. just playing eye spy or even odd one out (favorite over here for a couple months or so). By playing different sound games, we practice and refine phonological awareness without making it boring. This was great to really take our beginning sound mastery up a notch.
Rhyming Work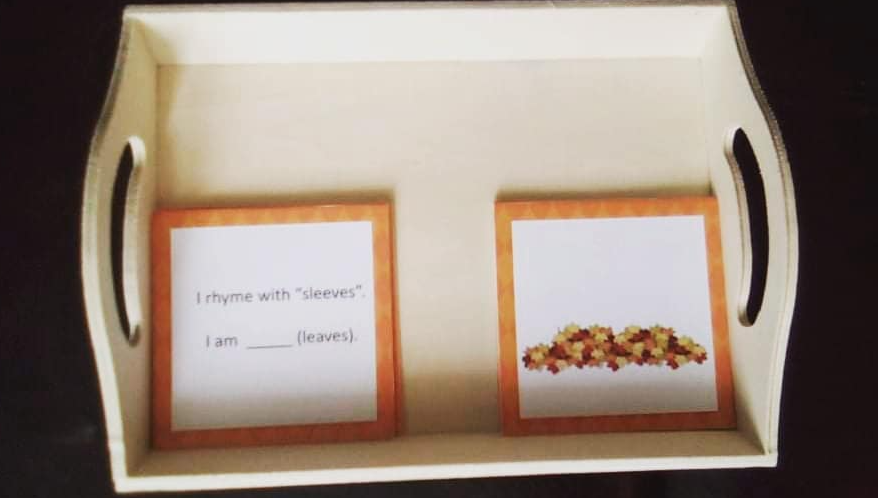 This was another hit. It was self selected frequently until we hit ending sounds bingo (which then became the new favorite!) Since we are pre-reading, I read the card and laid out two object cards for her to select as the rhyming word. She picked up on this quickly and thoroughly enjoyed it. The very first time I introduced this, we named all the object cards to ensure we would call it the right name so that the rhyme would work.
Point and Slide Syllable Counting
I didn't get a picture of this activity (homeschooling mom fail? I try!) but it is really great for isolating all of the individual sounds in the word and really drawing attention to them. I like that you can do this with your finger or gem stones (or another marker). We did both.
Ending Sounds Bingo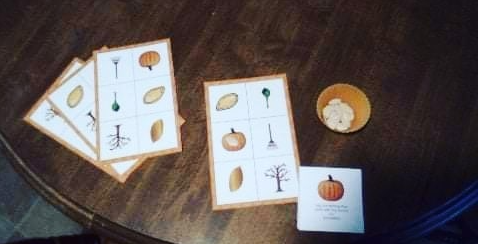 Ending sounds bingo was a huge hit and often selected on her own after I introduced it. This is a fun way to play with the last sound in a word. In the progression of sound games, this comes after the initial sound and we were looking for mastery of both beginning and ending sounds (and comfortable with middle sounds) before introducing the sandpaper letters. Ending sounds needed just a little more practice before we were ready. This activity was perfectly timed to really drive it home for Little Miss.
Middle Sound Sorting
This activity comes with the vowels printed on a pumpkin to use with it, but we have not introduced sandpaper letters yet (soon!!) So we did it slightly different. We started with just two middle sounds the first time. Then we named the first card in each letter sound (cab and kid for example) and started a row for each sound. We then continued this and added the right middle sound to the right row. She loved it and had to repeat it more than once! The next time we did the activity, we did the next three sounds (pictured below). After this, I mixed up the sounds a few more times. We normally did three at once.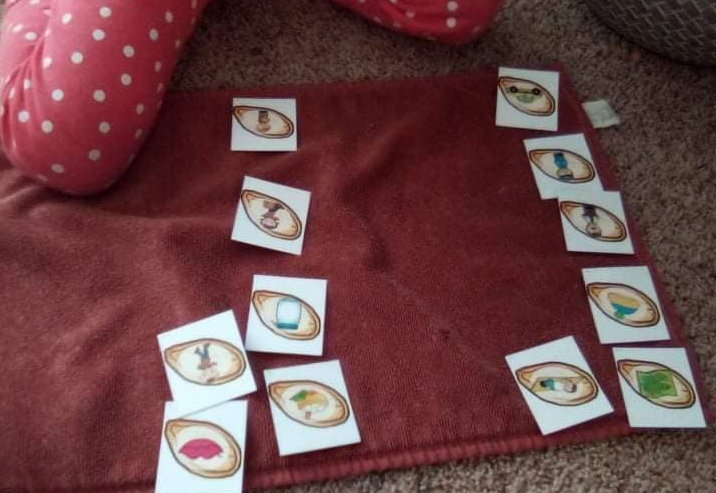 Books on our shelf:
We were language heavy with our pumpkin unit this year since it hit at the same time as a sweet spot for language. I have more that we might pull out next time around on different types of pumpkins. We may pull out some three part cards and things as well. Although we have so much hands-on experience I don't know if I will or not. We shall see!
More on Sound Games and Language Work:
More Units to Explore:
---